Social Networking Software
If you have wondered how Facebook and Twitter have become as famous as they are today, the secret is the right choice and use of social networking software. By using this kind of application, you can create your own website or online community where members can join and interact with each other. Creating an online community helps build or improve both professional and personal relationship with colleagues, family and friends. It can also pave the way to the success of a business.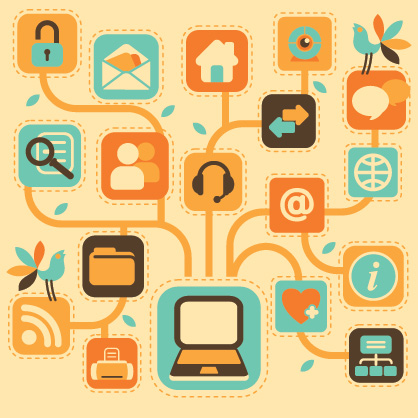 How to Create a Successful Social Network
. Select a name. The name should be catchy enough to get the attention of your visitors. You may also consider who will use the network and use it as a name basis. For example, if the online community is for your company, you can name the website after it. If it's for your family, then the site can take after your family's name.

. Choose a dependable host for your network. This can be done by doing ample amount of researching and reading. Consider looking for servers that will let you use your own brand, logo and image for the network.
. Create a look for your website by selecting a preferred template and customizing its physical appearance. Choose the fonts and colors that suit your taste. The best way to create you're the best website is by using the right software.
. Begin networking with others by inviting people to join your online community. You can start with your friends and relatives to join and ask them to also invite their friends to join to start spreading the news.
. Build up content for your
social community online
. This can be done by letting your members make use of features such as uploading photos, updating profiles and status, joining or putting up groups, blogging, participating in forums, watching videos, listening to music, chatting with other members, and so on.
. Determine the general purpose of your network and decide from there what features and services you want to provide for your members. Weigh down the advantages and disadvantages of the different features , and determine which features are most useful to your website users.
The Advantages of Social Networking
. The search directory is refined because of the categories. And by clicking on the categories, it is easier to locate and connect with individuals or groups who have the same interests with you. In this way, you can save time, money and resources.

. Since you have the control on maximizing your website, you can use articles to promote your merchandise and services. You can also post images and videos to make clients more interested and provide reviews and user feedback that other consumers can refer to. This will help attract more visitors to your website and increase traffic.
. Social networking provides a room for you to make a good reputation for your business. By expanding your connections, more and more people get to know you and as a result, you gradually gain their trust. In this way, it becomes easier to promote your business and earn more profits. Just keep in mind that the key to creating an online community that helps improve your business is to make good use of the right social networking software.
Affordable Social Networking Software
Using a Social Network Software
Social Networking Software Benefits
The Top 5 Benefits of Using Social Networking Software
Social Networking Software for Your Business
Social Networking Software to Improve Brand Awareness
Social Networking Software Features
Chameleon Social Networking Software
Top 6 Benefits of the Chameleon Social Networking Software
Top 10 Reasons Why Website Owners Should Use Chameleon Social Networking Software
Top 4 Uses of Social Networking Software
Essential Features of Efficient Social Networking Software
Social Networking Software: The Secret Behind the Success of Facebook and Twitter
Ideal Social Networking Software
Best Social Network Script
Benefits from a Social Networking Script