Chameleon Overview
Chameleon dating & community software
has all the professional features that will be enough for you to create sites like YouTube, MySpace or Date.com! Just switch the features on and off and change the site! To attract your customers even more we have a 3D Avatar Chat in the software.
It is inhabited by funny unique avatars, you can enter and chat with your mates there.
Chameleon is the most advanced version of matchmaking software
to date. With new features, higher levels of security, and a completely new modular structure, Chameleon offers the most powerful tool in dating site software.
A community script (also called
SocialNetwork Software
,
Dating Software
) is the engine which makes Dating Services, or Social Networks, which are now the most popular Internet community services available to Internet users, aged from 14 (though usually from 18) to 80 and over, work!
There are thousands of dating websites and social network services out there. Millions of people daily chat, send private messages, e-mails, and just have fun at these community and dating websites.We are not going to talk about these services as most of us know the basic stuff about them. We are going to talk about the engine which makes the world of dating and matchmaking available online - i.e.
CommunityScripts, Dating Scripts, Social Network Software
.
Most of such software solutions are priced from over $600 up to a few thousand USD! And most of these
communitysoftware
scripts do not offer anything special. Chameleon Community Script is not an old veteran, who ran out of ideas and original solutions, as most veteran social network and dating script solution providers have. Chameleon is a powerful, fresh and cheap dating system and dating script solution. Chameleon Community Script and Dating Software is one of the newest and best solutions available today.
The features incorporated are not the usual and standard bunch.
Chameleon Community Script
does have standard features like Private Messages, Photo Upload, Extensive 'About Me' functions. While these functions do seem standard, they have a new look and feel! Chameleon Community Script offers completely revolutionary and new functions like Online Multiplayer Games (like the good old "Ping-Pong", "Battleship", and more), Audio and Video Upload, and other features! (For a full list of features visit the 'Features' section of the ABK-Soft website.) Chameleon Community Script is as stable and as secure as any other community and dating script available.The Chameleon Community Script/
Dating Script
is developed by ABK.
ABK consists of young professional PHP, Flash and Web Programmers from the US, full of new ideas and fresh dating solutions.
Chameleon Community Script
is constantly being updated, games and functions added, ideas implemented! It is the perfect dating script solution for any eBusinessman, who wants to make a real fortune on Social Networks and Dating Communities!
Chameleon Community Script
is a one-time fee social network solution. You will get lifetime free updates, including Online Games, Features, etc.
Find out more! Compare the price and the features! We are sure that you will find no better
community software
and dating script solution!
Dating System
Several sites created by Chameleon & Oryx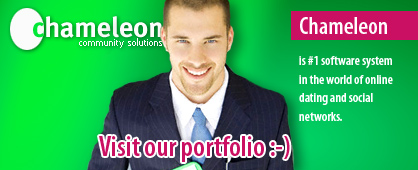 We can also help you create your own dating site!
See what we can do for you. Here are some of the dating sites we have been working on.
New sites are constantly added to the list,
so please come back soon to see them! Hope to see your dating site among them soon.


Related Articles:
Authorities Can Shut Down Your Dating Site?
blog comments powered by

Disqus