Social Network Script Features
ABK-Soft AbleDating Community and Social Network Script is one of the most powerful, full-featured, AJAX-based Community Script (also called Dating Script, Personals Software, Matchmaking Script, and Social Network Script)! Remaining cheap the script comes packed with loads of features, settings, and design templates.
ABK-Soft AbleDating Community Script and Social Network System incorporates the most revolutionary features available on the Dating and Community Script market today!
Here is an insight into AbleDating Community Script's newest functions:
AbleDating Flash Chat
- is a powerful and new instant messaging and chat solution! AbleDating Flash Chat isn't some standard PHP or Java-based online chat system. AbleDating Flash Chat is a Flash-based and optimized online chat system that works faster and saves bandwidth and traffic! AbleDating Flash Chat has powerful features like multiple chat rooms, powerful and easy-to-use chat room administration tools, history and logging, color codes, and more! Other Community Script and Dating Script solutions have no incorporated online chat systems, especially Flash-based! Third party online chat solutions cost from $400 and upwards!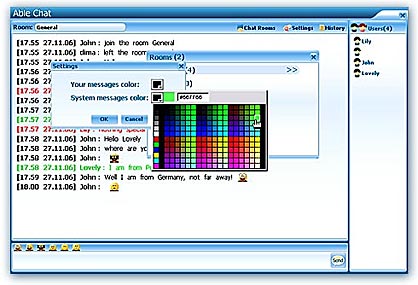 AbleDating Online Games
- is a new and fresh idea in the Dating and Community Script business! AbleDating Online Games include such classics as Love Tree, Battle Ship, multiple Card Games, Board Games, Word Games and much more! There are more online games developed constantly, and will be added soon. All of the AbleDating Online Games are uniquely developed, Flash-based and multiplayer. Let your members play their favorite games online with their couples and friends! AbleDating Community Script makes your Dating and Social Network a place your members will not want to leave!
AbleDating 3D Chat
- a real revolution! AbleDating 3D Dating Chat lets your Community members chat live online in 3D mode! Now that is a thing your members wouldn't want to miss. Most Community Scripts have no chat, and those solutions that offer a chatting system is so boring! Chatting is so commonplace now, that it's difficult to make your Dating members enthusiastic to visit your Dating Site. AbleDating 3D Chat is the ultimate solution to bring more customers!
We hope that this short insight made you realize that ABK-Soft AbleDating Community Script and Social Network System is not just your everyday Dating Script, it's a huge world of fresh ideas, new technologies, and powerful functions in one package! ABK-Soft AbleDating Community Script and Social Network System is all you'll ever need to set up a Dating Community and to start making money today!